Unique Unboxed Loose Incense Sticks & Cones - SHOP
livepages::jquery();?>
"Unique Unboxed Loose Sticks & Cones"
In response to a growing demand and feedback from our online customers, we have decided to introduce a New Range of 18 Scented Loose Incense Cones & 20 Scented Loose Incense Sticks to choose from HOWEVER Please note that Chamomile and Lily of the Valley scents are only avaliable in a stick form ~ our Best-Selling & Familiar fragrances plus a few "Different" ones.
These Incense Sticks & Cones are normally sold at our Market/Event & Festival stall, as our Pick n Mix range but unfortunately on our website this concept is not avaliable but we are offering this New Online range of Incense as a pre-packed bag of 10 same scent Sticks or Cones, there is NO box packaging as this range is normally a 'Pick n Mix' option, instead we will process each order individually, then bag up each fragrance selected 'exclusively for you!'
~~~~~~~~~~~~~~~~~~~~~~~~~~~~~~~~~
The Fragrances we now offer with minimum packaging but with a Great Scent, Produced to a High Quality and as normal, " We have tried the Rest (of Incense Brands on the market) SO you can BUY and ENJOY ONLY the BEST ".
They offer a perfect scent and burn evenly as well as easily.
~~~~~~~~~~~~~~~~~~~~~~~~~~~~~~~~~~~~~~~
Some of the fragrances on offer,
Aloe Vera ~ Helps with mental alertness and enhances the memory.
Rose ~ to make your Meditative and Spiritual Journey smooth.
Dragons Blood ~ widely known as a powerful element against Negativity.
Patchouli ~ perfect for Tranquil Relaxation and Entertaining.
Sandalwood ~ it can also lower levels of anxiety and stress.
NOW ANOTHER EXCITING FRAGRANCE
Arabian Oudh - it's just amazing,
~ so try some today. This new addition is available in both
Stick & Cone versions that will suit any home . . .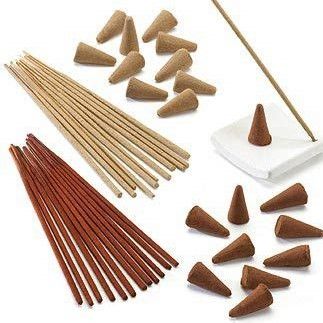 Products In This Category:
Showing 1 - 19 of 19 results
The brand, we have chosen to use as our loose Incense range, still meets the Standards & Values that we've always held because it's important to us to our customers different, Toxic & Chemical-free products which are not found at other outlets. The only difference between these Sticks and our standard Natural Incense sticks, is that our 'Loose brand' is machine made not hand rolled, Charcoal is used to firm up the "Paste Mixture" which enables it to bond onto the Bamboo stick better as it speeds through the Incense Making Machine.
They believe in fresh products and making them using only the purest, & highest quality vegetarian ingredients.
DID YOU KNOW - Similar Incense is made then it can be stored for many years until it is sold to wholesalers/retailers and then to an unknowing public. Whilst in India 2019, we observed, first hand, some grass roots level of Incense making and saw how brands, more familiar in the UK, which use charcoal and machines. They had been stored for over 3 years awaiting shipment to UK by the end of May 2019, and there it will sit in a UK wholesalers/retailers stockroom till sold in shops or other outlets - the Incense could easily be 4-5 years old by the time you come to burn it!
DID YOU KNOW- Incense losses its scent and beneficial properties over time! Especially Chemical based products that have Toxic Harmful substances.
All these Incense are made using Ethically Sourced Ingredients and where necessary, they source sustainable alternatives to more expensive products that are nontoxic or chemical based, So they know exactly what goes into them.
~~~~~~~~~~~~~~~~~~~~~~~~~~~~~~~~~~~~~

They are produced without exploitation of People or Planet, so you can be safe in the knowledge that all Incense products are Manufactured using traditional and timeless recipes handed down through the generations. They produce a clean, smooth burning Incense that transports you to another world with soothing fragrances to suit your every mood or meditation.
~~~~~~~~~~~~~~~~~~~~~~~~~~~~~~~~~~~~~~~

Essential oils are most potent and effective when freshly extracted from the plant or flower source. Environment – organic, sustainability, endangered species, production emissions onto land and water, no Genetic Modification. Natural ingredients, plants, and essential oils have been used for hundreds of years because they have a proven history of effective, safe use and are much kinder for the environment. This Company Brand have been producing Incense for many years, giving them a wealth of experience such as how to Formulate and Manufacture this range of Machine made, charcoal based Incense with the minimum the use of Synthetics.
~~~~~~~~~~~~~~~~~~~~~~~~~~~~~~~~~~~~~~~

Animal Protection – No animal testing of ingredients. Vegetarian ingredients only. You can enjoy these products knowing they are produced without Exploitation of People, Animals or Planet.
~~~~~~~~~~~~~~~~~~~~~~~~~~~~~~~~~~~~~~~

They have many more people working in their factories than machines, producing Incenses that create local jobs. Their factories are happy places where they take pride in the products they make.
Other areas such as Workers' rights – Unions, Collective Bargaining, Health And Safety, Freedom To Leave, Fair Pay, Working Hours, Discrimination, & No Child Labour are also an important part of the Brand Company Ethics.
~~~~~~~~~~~~~~~~~~~~~~~~~~~~~~~~~~~~~~~

Their dedicated workforce are involved in all areas of production including finding solutions to problems, such as sourcing the finest Essential Oils and Absolutes, the Best Natural Raw Materials, Safe Synthetics, and the Company has a very strong commitment to the communities and areas who supply the ingredients in a respectful way to safeguard the Environment and the Social impact as well as supporting Fair Trade and Community Trade initiatives.
~~~~~~~~~~~~~~~~~~~~~~~~~~~~~~~~~~~~~~